Palmer Vineyards Riesling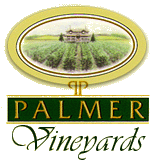 The winemaking style of Palmer Vineyards' Riesling allows the gentle, fruity qualities of this varietal to show their very best, with floral aromas, crisp lively flavors and an off- dry finish. This wine is a harmonious match with bay scallops, roast pork, and Alsatian style classics such as onion tart or Choucroute Garnie.
This is a vintage item, but we do not track the vintage in inventory. The information shown describes a recent vintage of this item, but may not describe the vintage you will receive. If you require a specific vintage of this item, please contact us to inquire about availability.