Jamesport Vineyards East End Merlot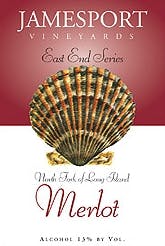 The East End Series Wines are Jamesport's crowd-pleasing wines that reflect the spirit of the North Fork. As the labels on the bottles read With agriculture joining aquaculture, Jamesport Vineyards is proud to produce our first-ever wines created in partnership with the SPAT (Southold Project in Aquaculture Training) program. This Cornell Cooperative/Community-based partnership encompasses an initiative to teach residents how to raise their own shellfish in the bays of the East End. The large scallop shell on the label pays homage to the bounty of the North Fork's bays and creeks.
This is a vintage item, but we do not track the vintage in inventory. The information shown describes a recent vintage of this item, but may not describe the vintage you will receive. If you require a specific vintage of this item, please contact us to inquire about availability.