Baiting Hollow Farm Vineyard Chardonnay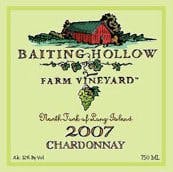 Minimally processed, gently pressed, and cool fermented in stainless steel to preserve the delicate fruit of this noble varietal. Chardonnay grapes are known for producing wines of finesse and clarity. Our very particular Chardonnay offers aromas and flavors of pear, lemon, lime and apple with a lingering hint of citron. It has a beautiful and brisk balance of fruit and mild, yet crisp acidity. Serving suggestions: with shellfish such as lobster, crab, clams, mussels and oysters, it is equally delightful with lemon chicken and other light chicken dishes as well as light pasta and vegetarian fare.
This is a vintage item, but we do not track the vintage in inventory. The information shown describes a recent vintage of this item, but may not describe the vintage you will receive. If you require a specific vintage of this item, please contact us to inquire about availability.