Channing Daughters Mosaico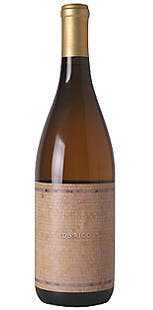 This white wine is texturally, aromatically and deliciously unique. The aroma is heady with scents of cantaloupe, honeydew melon, pineapple, rose petal, citrus, apples and a central streak of minerality. There are hints of brown spice on the palate and a juicy persistent finish. It has an underlying exotic nature that is perfumed, honeyed, apricoty and nutty that comes from the skin-fermented Muscat. It is subtle (it's only six percent after all) but it lends the wine a kind of intriguing ephemeral nature that keeps you sticking your nose in the glass and the wine in your mouth. Mosaico first reminds you of spring and then you realize it has a more symphonic nature that can complement a variety of foods through all four seasons.
This is a vintage item, but we do not track the vintage in inventory. The information shown describes a recent vintage of this item, but may not describe the vintage you will receive. If you require a specific vintage of this item, please contact us to inquire about availability.