Duck Walk Windmill Red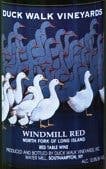 A rich, ripe fruit-forward blend of Merlot, Cabernet Sauvignon and Pinot Noir red wine grapes, Windmill Red is barrel-aged just a short time in seasoned oak. The result is fruity, with some spicy nutmeg and clove notes. It's a superb wine to pair with tomato-based dishes and pasta as well as grilled meats and traditional barbecue.
Wine SpectatorThis soft red offers the simple grapey flavors of a Nouveau-style wine, with just enough tannin for grip.