Duck Walk Southhampton White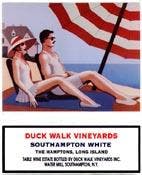 Southampton White has grown to become our signature white wine. This unique blend of Chardonnay and Cayuga grapes is fresh and clean with lovely hints of lemon and orange blossom. With a pleasing palate-cleansing finish, this wine is uniquely well suited as an accompaniment to raw shellfish (especially Long Island Oysters) and robust, creamy cheeses.
This is a vintage item, but we do not track the vintage in inventory. The information shown describes a recent vintage of this item, but may not describe the vintage you will receive. If you require a specific vintage of this item, please contact us to inquire about availability.